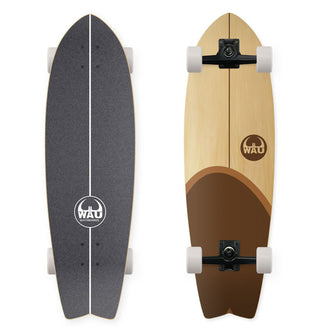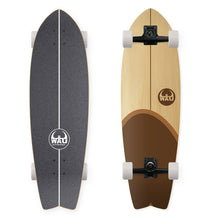 WAU Surfskate "Mocca" - Handmade in Germany

- Size: 32" x 9,5" WB 18,5"
- Flux Surfskate Trucks
- ABEC7 bearings
- Wheels 70mm-78A
real time
+

22
visitors at the moment
Introducing the handmade Mocca Surfskate from Germany
Experience the perfect blend of style, maneuverability and sustainability with our handcrafted Fishtail Surfskate. Proudly made in Germany, this surf skate is designed to enhance your riding experience, whether you're cruising around town or your passion is skate parks and skate bowls.

Unleash your surfing skills
With its unique fishtail design, our handcrafted fishtail surf skate allows you to express the surfer in you and experience the thrill of carving the concrete waves. Its carefully crafted shape and gentle curves provide exceptional control and maneuverability, making every ride feel like a day at the beach.

Sustainable craftsmanship
We believe in protecting our planet while delivering excellence. That's why our Fishtail Surfskate is sustainably handcrafted in Germany using environmentally friendly materials and processes. You can drive with peace of mind knowing you are making a positive impact on the environment without compromising on quality.

Master any terrain
From driveway surfing to tearing up skate parks and skate bowls, our Fishtail Surfskate is made to conquer any terrain with ease. Its responsiveness and stable thrusting abilities allow for flawless transitions and impressive speed. No matter where your skating journey takes you, this board will keep you in control and ready for any challenge.

Unforgettable surfing experience guaranteed
Get ready to experience the thrill of surfing on land with our handcrafted Fishtail Surfskate. Whether you are an experienced rider or just starting out, this board will take your skills to a new level. Embark on an unforgettable journey, catch the concrete waves and make every ride an adventure.


- Size: 32" x 9,5" WB 18,5"

- Flux Surfskate Trucks

- ABEC7 bearings

- Wheels 70mm-78A
€ 6,90 via GLS
€ 6,90 via GLS
Belgium, Bulgaria, Denmark, Estonia, Finland, France, Greece, Ireland, Italy, Croatia, Latvia, Lithuania, Luxembourg, Malta, Monaco, Netherlands, Poland, Portugal, Romania, Sweden, Slovakia, Slovenia, Spain, Czech Republic, Hungary , Cyprus.
€ 14,90 via GLS

Switzerland:
€ 15,- via Austrian Mail
International & Worldwide*:
€ 6,90 for a small package (contents 1-3 shirts)
€ 14,90 for a large package (from 3 shirts, hoodies, etc.)
*Caution: International shipping is by mail and is therefore not insured and without a tracking number. Orders are at your own risk and refunds are not guaranteed.