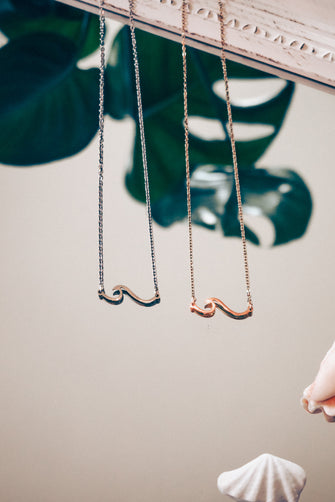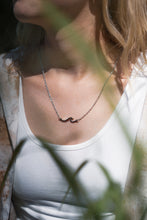 Chain with wave motif - stainless steel
100% stainless steel material
💧 waterproof material
✔️ Color lasts
🤝 refined in Austria
become
FamilyMember
and save 10%
🆓 free returns
real time
+

20
visitors at the moment
Introducing our stunning stainless steel wave motif necklace, available in both gold and silver variants. Crafted with care and precision, this elegant piece is designed to add a touch of sophistication to any outfit. With a chain length of 50 cm, it sits gracefully on the décolleté and is therefore the perfect accessory for every occasion.

Crafted from high-quality stainless steel, this necklace is not only durable but also tarnish-resistant for long-lasting beauty. The wave motif conveys a sense of fluidity and movement, symbolizing the ever-changing nature of life. With its sleek and modern design, it adds a contemporary flair to any style.

The gold option exudes a warm and luxurious glow, adding a touch of opulence to your overall look. For those who prefer a more understated and versatile option, the silver variant effortlessly complements a variety of outfits, from casual to formal.

Our stainless steel chain with a wave motif is more than just a fashion statement. It is a symbol of individuality and self-expression, allowing you to confidently flaunt your unique style. Worn alone or in combination with other necklaces, it effortlessly enhances your ensemble and makes you the center of attention wherever you go.

Invest in timeless elegance and impeccable craftsmanship with our stainless steel wave necklace.
€ 6,90 via GLS
€ 6,90 via GLS
Belgium, Bulgaria, Denmark, Estonia, Finland, France, Greece, Ireland, Italy, Croatia, Latvia, Lithuania, Luxembourg, Malta, Monaco, Netherlands, Poland, Portugal, Romania, Sweden, Slovakia, Slovenia, Spain, Czech Republic, Hungary , Cyprus.
€ 14,90 via GLS

Switzerland:
€ 15,- via Austrian Mail
International & Worldwide*:
€ 6,90 for a small package (contents 1-3 shirts)
€ 14,90 for a large package (from 3 shirts, hoodies, etc.)
*Caution: International shipping is by mail and is therefore not insured and without a tracking number. Orders are at your own risk and refunds are not guaranteed.