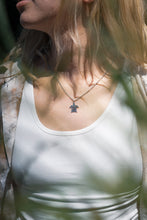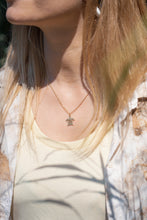 Necklace with turtle - stainless steel
100% stainless steel material
💧 waterproof material
✔️ Color lasts
🤝 refined in Austria
become
FamilyMember
and save 10%
🆓 free returns
real time
+

56
visitors at the moment
Introducing our stunning Stainless Steel Turtle Necklace, available in both gold and silver variants. This carefully crafted accessory combines timeless style with a touch of nature-inspired charm. With a chain length of 50 cm, it sits gracefully on the décolleté and adds a touch of elegance to any ensemble.

Crafted from high-quality stainless steel, this necklace is durable and tarnish-resistant, ensuring its longevity and enduring beauty. The turtle motif symbolizes wisdom, longevity and protection, making this a meaningful and unique piece for those who appreciate the wonders of nature.

Choose the gold option for a luxurious and radiant look that exudes opulence. Alternatively, the silver variant offers a versatile and understated charm that effortlessly complements any outfit.

Our stainless steel turtle chain is more than just a fashion accessory. Evoking the serenity and resilience of nature, it allows you to express your love for the environment and personal style with grace.

now and adorn yourself with a piece that embodies elegance, nature and your unique personality.
€ 6,90 via GLS
€ 6,90 via GLS
Belgium, Bulgaria, Denmark, Estonia, Finland, France, Greece, Ireland, Italy, Croatia, Latvia, Lithuania, Luxembourg, Malta, Monaco, Netherlands, Poland, Portugal, Romania, Sweden, Slovakia, Slovenia, Spain, Czech Republic, Hungary , Cyprus.
€ 14,90 via GLS

Switzerland:
€ 15,- via Austrian Mail
International & Worldwide*:
€ 6,90 for a small package (contents 1-3 shirts)
€ 14,90 for a large package (from 3 shirts, hoodies, etc.)
*Caution: International shipping is by mail and is therefore not insured and without a tracking number. Orders are at your own risk and refunds are not guaranteed.