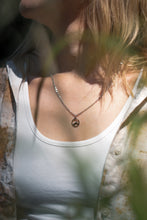 Chain with mountain motif round - stainless steel
100% stainless steel material
💧 waterproof material
✔️ Color lasts
🤝 refined in Austria
become
FamilyMember
and save 10%
🆓 free returns
real time
+

31
visitors at the moment
Introducing our stunning stainless steel mountain motif necklace, available in both gold and silver variants. Crafted with care and precision, this elegant piece is designed to add a touch of sophistication to any outfit. With a chain length of 50 cm, it sits gracefully on the décolleté and is therefore the perfect accessory for every occasion.

Crafted from high quality stainless steel, this necklace is constructed to stand the test of time, ensuring its durability and resistance to tarnishing. The mountain motif represents strength, resilience and a love of nature, making it an ideal piece for nature lovers and adventurers.

Choose the gold option for a luxurious and radiant look that effortlessly complements your overall style. Alternatively, the silver variant offers versatile and timeless appeal, suitable for both casual and formal occasions.

Our stainless steel mountain motif necklace is not just a fashion accessory, but a symbol of your love for nature and a reminder of the beauty of the mountains. Unleash your spirit of adventure and show off your unique style with this mesmerizing piece.

Shop now and embark on a journey of style and elegance that will complement your love of the outdoors.

€ 6,90 via GLS
€ 6,90 via GLS
Belgium, Bulgaria, Denmark, Estonia, Finland, France, Greece, Ireland, Italy, Croatia, Latvia, Lithuania, Luxembourg, Malta, Monaco, Netherlands, Poland, Portugal, Romania, Sweden, Slovakia, Slovenia, Spain, Czech Republic, Hungary , Cyprus.
€ 14,90 via GLS

Switzerland:
€ 15,- via Austrian Mail
International & Worldwide*:
€ 6,90 for a small package (contents 1-3 shirts)
€ 14,90 for a large package (from 3 shirts, hoodies, etc.)
*Caution: International shipping is by mail and is therefore not insured and without a tracking number. Orders are at your own risk and refunds are not guaranteed.