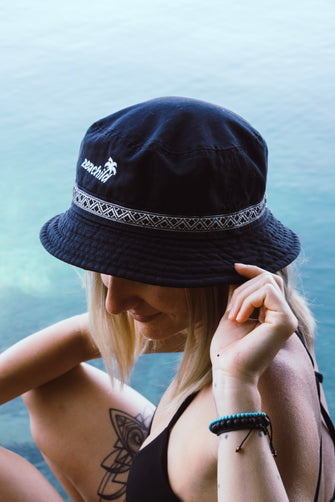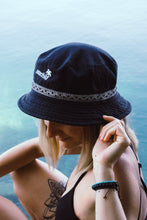 Aztek Bucket Hat - organic cotton
100% organic cotton twill material
🌱 OCS-certified organic farming
✔️ Certified by Control Union CU811033
☀️ Sun Protection - UPF50+
🚩 refined in Austria
become
FamilyMember
and save 10%
🆓 free returns
real time
+

31
visitors at the moment
100% organic cotton twill

Contains 100% OCS certified organic cotton certified by Control Union CU811033

Sun Protection - UPF50+

Unisex styling

sewn

Ventilation eyelets
Introducing our stylish and eco-friendly organic cotton bucket hat in black with aztec ribbon! This versatile unisex beanie made of high-quality organic cotton combines fashionable design with sustainability and vegan-friendly materials.

Made with love for the planet, our bucket hat is made from organic cotton, which means it's free from harmful chemicals and pesticides, ensuring a safe and gentle feel against your skin. Not only is it a convenient accessory, but it also reflects your commitment to a more sustainable lifestyle.

The black color adds a touch of sophistication to any outfit, while the Aztec ribbon details add a unique and eye-catching element. Inspired by ancient patterns, the Aztec ribbon celebrates cultural heritage while adding a trendy and bohemian flair to your look.

We believe in responsible manufacturing, which is why this bucket hat is both vegan and eco-friendly. By choosing vegan materials we protect animal welfare while still delivering a high quality product. The organic cotton used in this hat is grown using environmentally friendly methods, reducing the ecological footprint and promoting a healthier ecosystem.

With its versatile design and unisex appeal, this organic cotton bucket hat is an essential accessory for those looking for both style and sustainability. Whether you're exploring the city streets, lounging on the beach, or attending a music festival, this hat effortlessly completes your outfit while making a positive impact on the environment.

Invest in fashion that reflects your values. Choose our black organic cotton bucket hat with aztec ribbon and experience the perfect blend of style, comfort and eco-consciousness. Join us on the journey to a greener future, one fashion step at a time.
€ 6,90 via GLS
€ 6,90 via GLS
Belgium, Bulgaria, Denmark, Estonia, Finland, France, Greece, Ireland, Italy, Croatia, Latvia, Lithuania, Luxembourg, Malta, Monaco, Netherlands, Poland, Portugal, Romania, Sweden, Slovakia, Slovenia, Spain, Czech Republic, Hungary , Cyprus.
€ 14,90 via GLS

Switzerland:
€ 15,- via Austrian Mail
International & Worldwide*:
€ 6,90 for a small package (contents 1-3 shirts)
€ 14,90 for a large package (from 3 shirts, hoodies, etc.)
*Caution: International shipping is by mail and is therefore not insured and without a tracking number. Orders are at your own risk and refunds are not guaranteed.